Cosmetic dentistry is a specialized area of dentistry that focuses on improving the aesthetic appearance of the teeth and gums to transform smiles. Cosmetic dental treatments and procedures are elective. However, many have aesthetic as well as functional benefits for patients. At Gardens Dental Spa, our dentists have extensive knowledge and experience in providing a wide range of cosmetic dentistry solutions that can enhance the look of your smile as well as address functional issues to give you the smile you've always wanted.
Porcelain Veneers
Porcelain veneers are very thin shells that cover the front part of your natural teeth to address imperfections such as chips, cracks, uneven shape, discoloration, minor misalignment, and gaps. They are custom-made to perfectly fit your teeth and bonded using special cement. Because they are extremely thin, very little of the original tooth structure is removed for the veneers to be placed.
Before/ After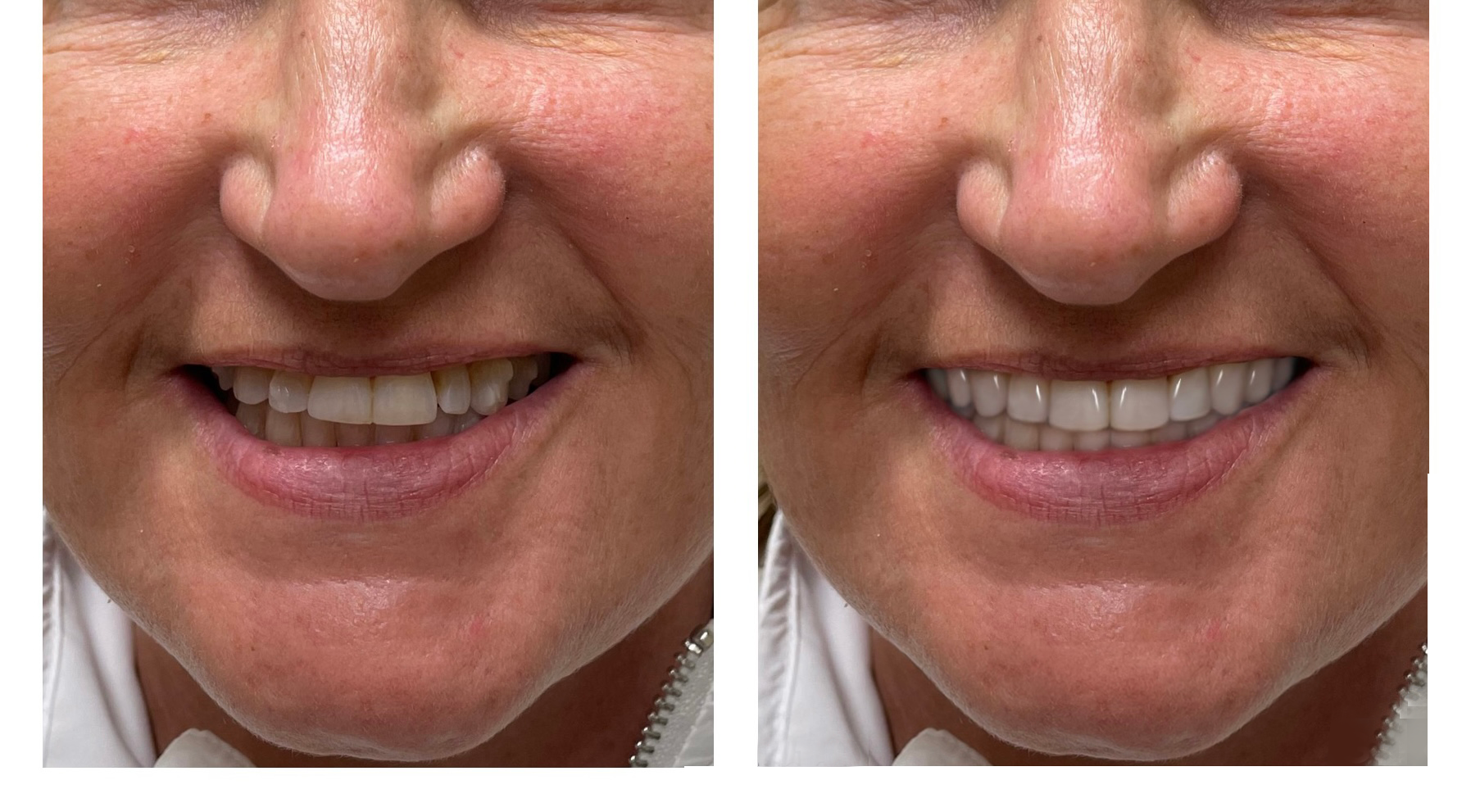 Before/ After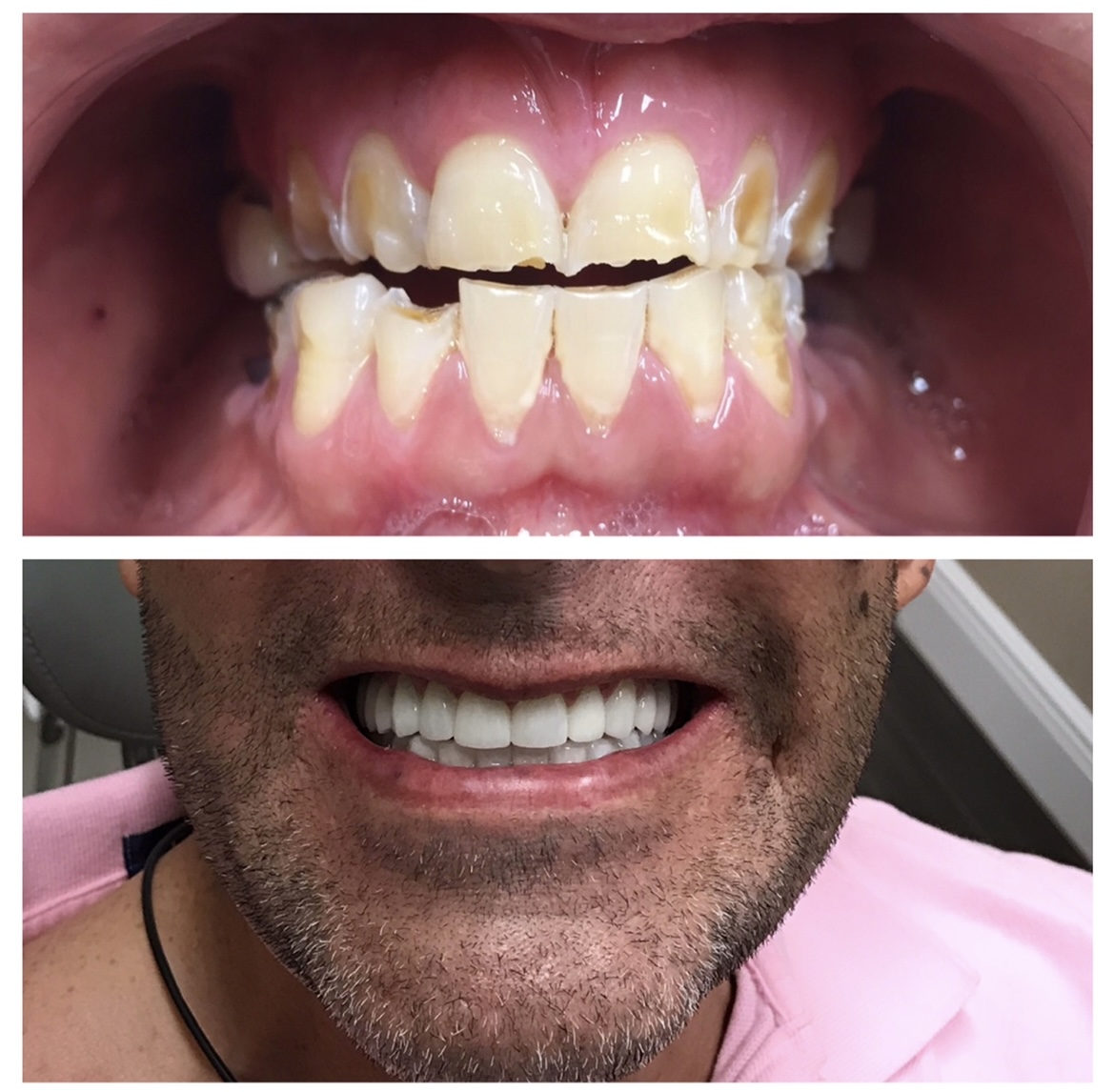 Teeth Whitening
Teeth whitening is a quick and easy way to dramatically brighten your smile. Our dentists offer both in-office and take-home teeth whitening solutions for your convenience. The in-office treatment is fast and efficient, providing results in only one visit. If you prefer to whiten your teeth at home, we can provide custom-made bleaching trays. The trays fit over your teeth perfectly and prevent gum irritation or sensitivity. We'll also provide you with a professional bleaching gel that you will use with the custom-made trays. This treatment typically takes a few days to show results and two weeks to completely brighten your smile.


Lip Repositioning
Lip repositioning is an innovative technique used in the treatment of gummy and asymmetrical smiles to address the excessive display of gum tissue when patients smile. It is also used for increasing lip volume in patients with thin upper lips. Lip repositioning is a simpler and less invasive alternative to more complex surgical procedures that can quickly and effectively balance and enhance your smile. It is an outpatient procedure performed under local anesthesia that typically takes 30-45 minutes.
Botox and Fillers
Botox and dermal fillers are injectables that relax the muscles that cause wrinkles and add volume to areas of the face that have lost some elasticity. They are safe, non-invasive procedures that can eliminate dynamic wrinkles by relaxing the underlying muscles. Both solutions are injected into the skin using very small needles. Botox can correct horizontal forehead creases, vertical lines between the eyebrows, crow's feet beside the eyes, lip lines, and more. Dermal fillers can also add volume and smooth folds around your eyes, lips, nose, and mouth. Some patients prefer to combine the two treatments for better results and longer-lasting effects.
To learn more about the advanced cosmetic dentistry treatments and procedures we offer at Gardens Dental Spa, call (561) 799-7791 or visit us at 11380 Prosperity Farms Rd #108, Palm Beach Gardens, FL 33410.